Call Missouri City Tow Truck for emergency service
Breakdown towing in Missouri City, Texas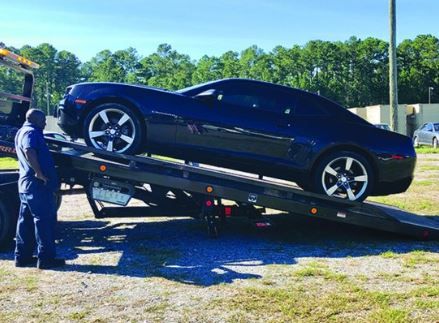 If you're lucky, your vehicle has never broken down on the road miles away from home or a destination. But even being totally prepared and proactive cannot ensure that it won't happen to you at some point.
The fortunate ones have a family member, neighbor or friend pick them up. Those not so lucky may be stranded for hours or left to walk 15 miles home through the scorching heat of a Texas summer day.
Instead of trying that, give us a call for trusted car breakdown towing assistance. Because vehicles always seem to stop running at the worst times possible, our experienced tow truck drivers are at the ready 24 hours a day – even on weekends and holidays – to help you in emergency circumstances.
We take pride in offering fast and affordable roadside service no matter if you have a flat tire, dead battery, engine that won't turn, damaged alternator or any other issue that prevents you from safely driving your vehicle.
Our professional tow truck drivers are qualified and specifically trained in handling car breakdown situations. Dial us up 24/7 for prompt and efficient help in Missouri City, Sugar Land, Arcola, Fresno and other suburbs south of Houston.
What to do when your vehicle stops running
When your car craps out on an expressway, city street, back alley or country road in Texas follow these suggestions for the best results:
Try to remain as calm as possible.
If you can, pull away from traffic to a safe location on the side of the road
Ensure that you and your passengers are safe
Switch on your four-way hazard lights
If you feel comfortable doing so, review the vehicle owner's manual for troubleshooting solutions.
Call an area towing company for transportation to your home, repair shop, or other desired location.
Best emergency tow truck south of Houston, TX
We understand that you have several options when it comes to choosing a towing and roadside service for car breakdown assistance. Pick us for the following reasons (and others that we cannot possibly fit on one webpage):
We react quickly to calls for help and get you back on the road fast.
Our fully licensed, insured and reliable teams gives customers peace of mind in emergencies.
We provide many roadside recovery services, including dead battery charges and jump starts, gas delivery and flat tire changes and repairs.
Our dispatchers, drivers, technicians and other employees are professional, safe and friendly.
Our service options are fair and cost less than most of our competitors in Missouri City.
Contact us at your convenience to find out more about our trusted 24-hour emergency towing and roadside services.