Call Missouri City Tow Truck for emergency service
Battery jumpstart in Missouri City, Texas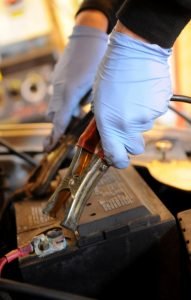 A dead car battery can happen at any time to anyone. You can only hope and pray that it occurs when you're at home or another safe location.
Of course, we hope it doesn't at all. But, for those occasions when batteries die, we're here to lend a hand with emergency 24/7 jumpstart services near you.
With more than 20 years of operating in Missouri City, we offer a wide range of fast and affordable roadside assistance options around the clock – even on holidays, Sundays, and in the middle of the night.
We are fully licensed and insured, and our roadside technicians are skilled and experienced when it comes to jump starting dead batteries in cars, vans, trucks, ATVs, tractor trailers, and more vehicles.
Call us when you're in trouble. In addition to Missouri City, we serve Stafford, Fresno, Arcola, Sienna Plantation, and beyond in southwest Houston.
What to do if your battery dies
It doesn't take much for a battery to stop working and fail to provide the need charge to ignite your vehicle's engine. You may have left lights on – interior or exterior – or the battery is old and shot and a new one is needed.
When you do encounter a dead battery on the road, consider the following reactions:
Remain as calm as can be.
Make sure you're in safe place, away from traffic.
Attempt to jumpstart yourself with the help of another vehicle and jump cables – but only if you feel confident and safe. (Make sure to consult the car owner's manual).
Call a friend or family member for help.
Contact us for emergency assistance if all else fails.
Why choose our roadside professionals
When you need help with a dying battery, turn to us for a charge. Call us for the following reasons:
We don't charge a lot, saving you cash.
We work fast and respond quickly so you can get on with your life.
We stay in touch until the job is done to ensure satisfaction.
We professional, friendly, and dedicating to help our customers.
We're on call 24 hours a day to assist when you need us most.
Still not convinced? Contact us at your convenience to learn more about our company.
Our other 24-hour emergency services
In addition to lock outs, we also can assist you with:
Windshield repairs
Emergency towing